IT Wonder Lab was born with the mission to create and share best practices for building and maintaining complex Cloud infrastructures.
Most demos and examples available on the Internet or even shown during vendor events, are just plain simple and don't apply engineering standards. Many are insecure, don't scale, and don't show the full potential of the product.
Many companies migrate to the Cloud taking sub-optimal decisions or advice from vendors that might not be the best in the long run.
Our work culture is aligned with our values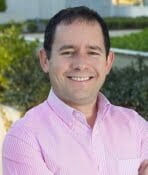 My name is Javier Ruiz Jiménez and I am an engineer, entrepreneur & adventurer. I have created IT Wonder Lab to help companies take better decisions when migrating to the Cloud.
I am a Computer Science Engineer with +20 years of hands-on experience, founded and sold a company that offered SaaS for some of the biggest energy producers in the world.
People describe me as a leader with a deep and broad knowledge of IT business strategy, management, cloud infrastructure, operations, and support, getting things done, and motivating technical teams to do their best work. Ability to work under pressure, understand complex problems, bring clarity, and find solutions with limited resources.

I have been recognized as a HashiCorp Ambassador for sharing my knowledge about HashiCorp Terraform (Infrastructure as Code).
I have received the digital badge "Microsoft Azure Heroes Kudos" recognizing my contributions to the improvement of Microsoft Azure documentation and application of secure practices in the Cloud https://enjinx.io/eth/asset/85286122
Javier is a great person with strong values, and, at the same time, an innovative leader. He also has a unique combination of executive capacities and entrepreneurial skills. I strongly recommend him both as a partner for business ventures and as a trusted collaborator.
I worked very close to Javier for nearly five of the years I was in Tecsisa and I can say that, for myself and many others, more than a boss was a leader. He was the first coming up with ideas, looking for solutions and, if necessary, the first implementing them.His constant dedication to finding optimal solutions, the best with the time and resources available, as well as his commitment wherever he was needed were an inspiration and a constant motivation. Thanks to that, very important projects were carried out, which would have been in danger if it were not for him.In addition, thanks to his extensive knowledge he was the reference for many and never gave up helping us. And, of course, I have learned a lot from him.I am certainly happy to have been able to work with Javier, both for his professionalism and his personality.
I have worked with Javier around 6 years and a large proportion of my professional growth, I owe it to him.In addition to his high technical expertise and business knowledge throughout his long career, one of its special features is the resolution capacity. He has a strong self-learning ability and good team spirit.Undoubtedly, I would work again with him anytime.
Working with Javier for nearly ten months was an absolute pleasure, as he helped me grow both professionally and as a person. His professional and calm demeanour always made him easy to approach and talk to, but he was never afraid to stand his ground if ever a product's quality was compromised.He was always dedicated to ensuring that our products would be delivered in the best releasable state, even if that meant working extra hours to do so - this is especially a quality I believe rubbed off on everyone he worked with, myself included. His knowledge of the company's technology, as well as his expansive analytical skills made him the go-to person whenever anyone had a pressing question, and as such, he was always willing to help whenever possible.Javier is definitely one of the best managers I've worked with and he will always get my recommendation!
Fortunately, I've had lot of chances to work with Javier from different positions, being able to get very valuable support and advices in every one of them.Starting with my internship at Tecsisa, where he was capable of getting some extra time to care about my performance, not only the technical issues, but also getting care of any other working or extra-working subjects in which he could be helpful.He has also been very supportive in my last period until now, where I had the opportunity to lead a project and to learn about all his large experience managing multiple areas: customer support, team management, large infrastructure knowledge... always keeping in mind the results oriented perspective.So I feel very lucky to have been able to collaborate with him along this time, getting a much wider picture on every step we have achieved.Thanks for sharing, listening and being so attentive 🙂
Más que un jefe, un líder y un amigo.Siempre da el mejor ejemplo, que es ser el primero en lanzarse a hacer las cosas e impulsa al resto con su energía y positivismo.Si ve que alguien no le sigue el ritmo, se preocupa y le echa una mano y le enseña.Además es alguien con quien te puedes ir a patinar y a tomar algo 🙂
Javier is a very hardworking person that somehow manages to find the time to listen to everybody's concerns and suggestions, even though I didn't report to him directly during my time at Tecsisa, the interactions I had with him were always positive and I particularly liked that being the CIO he was still very implicated in the company's day-to-day operations.
I have been working with Javier for two years. He has a vast experience and knowledge in system administration and management; you will notice it chatting or discussing with him about any use case scenario system related.His passion for technologies does easier work with him, always open to discuss alternatives to improve or have a stronger solution.Pursuing cutting edge technologies and validate it in real life is a plus you will get working with him. He is not the kind of professional that likes to use trendy names to look fancy, when he explains you something it is because he already tried it.He is kind person always open to help and goal driven. Being realistic with the purpose of his job and having in mind the business part.You will never be regret to collaborate with Javier.
I really enjoyed working with Javier. His experience, management skills, and sysadmin technical knowledge make him a great professional and a pleasure to work with. In his CIO position he has to deal not only with management tasks, but also with systems, and his passion for tech and the initiative to improve and do things right for his clients, is what made him be where he is now.A really kind person, always keen to help, and determined to get the job done.Thank you for everything Javier
Talk about Javier isn't easy. Javier is those type of professionals that you want to have to your side all the way. He always has an answer or if he doesn't he knows which direction you have to take.He is always ahead of people and he has no limits investigating new paths or new business.Since our first job together in Lucent Technologies, I can tell I'd make business/job without any doubt