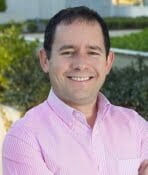 My name is Javier Ruiz Jiménez, I am an engineer, entrepreneur & adventurer.
I make sure infrastructure works at its best, developers do what they love and clients are happy.
I had been providing IT services to companies for more than 20 years.
I studied a MSE, Master in Computer Science Engineering at Universidad Autónoma de Madrid. During those years I helped many small companies set up  their first networks, hardware and software, web presence and e-mail.
A few years later I funded a company to provide IT services, the company grew without any external funding to a head count of more than 40 software engineers.
Bootstrapping my company without investors was challenging and had an impact in every decision made. Low budget was replaced with hard work, creativity and optimization of every resource.
After 16 years the company was providing SaaS for production planning and metering of electricity (accounting for +2 Billion Euro/year) and impacting electricity prices for millions of customers across Europe and America for some of the biggest energy producers of the world.
Designing, building and supporting all those systems with very limited resources was an amazing endeavor accomplished by highly motivated team.
Eventually the company was sold to an international group that provides IT  solutions and services and has presence in 50 countries with 22300 employees.
IT Wonder Lab was born with the mission to create and share best practices for building and maintaining complex cloud infrastructures. 
Please see my LinkedIn profile or use the contact form to get in touch.
Other non technical articles published at LinkedIn